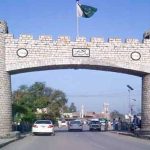 NOWSHERA: Chief Minister Khyber Pakhtunkhwa Pervez Khattak on Friday said that the provincial government has introduced reforms in different sectors particularly education and health to facilitate the common man.
Addressing a public gathering in Nowshera on Friday, he said thirty-five billion rupees have been spent on improvement in facilities in primary schools across the province.
He said free health facility under Sehat Insaf cards will be expanded from one point four to two point four million people this year.