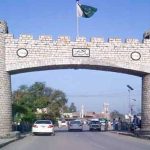 PESHAWAR: The Khyber Pakhtunkhwa provincial government on Tuesday challenged with the Supreme Court of Pakistan (SCP) an order of the Peshawar High Court (PHC) regarding investigation into the alleged corruption and irregularities in the Peshawar Bus Rapid Transit project.
In order to stop the investigation, separate petitions have been filed in the Supreme Court's registries of Islamabad and Peshawar by the Peshawar Development Authority and the provincial government, respectively.
Advocate Makhdoom Ali filed a plea with the Supreme Court's registry in Islamabad.
Both petitions pleaded with the court to suspend the PHC's order, and to prevent the Federal Investigation Agency (FIA) from investigation into the BRT project.
The petitions maintained that the PHC's order was against the Law as the court did not properly review the facts.
The Supreme Court has been further asked to nullify the decision of the PHC and that the FIA should be stopped from further inquiry before the top court gives its ruling in the petitions.
Earlier, the KP government had prepared a civil petition for leave to appeal (CPLA) against the PHC judgment delivered on Nov 14 order for the FIA to probe the alleged irregularities in the Peshawar BRT project.
The CPLA had raised different legal points about the PHC order besides questioning the suo motu powers of the high court bench.
On Nov. 14, a high court bench consisting of Chief Justice Waqar Ahmad Seth and Justice Ahmad Ali had decided three petitions related to the BRT project affairs.
A high court bench headed by Chief Justice Waqar Ahmad Seth had also ordered the National Accountability Bureau on Jul 17, 2018, for conducting proper investigation and inquiry into the BRT affairs.
However, the provincial government and Peshawar Development Authority had filed the CPLA in the Supreme Court requesting to set aside the said order.
A bench of the apex court headed by then Chief Justice of Pakistan Mian Saqib Nisar suspended the high court order on Sept 4, 2018, so the findings of the initial inquiry conducted by NAB were not revealed.
As over a year has passed since the apex court stayed the high court judgment, the appeal has so far not been decided.
In the high court judgment, one of the points referred to a special BRT cell in the transport department wherein consultants and other human resources were hired but despite that, the project was given to the Peshawar Development Authority.
The court observed that weekly meetings about the project were convened and despite that the project was not coordinated well, resulting in loss to the public exchequer.