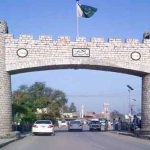 PESHAWAR: The first phase of talks between the Khyber Pakhtunkhwa government constituted ministerial committee and the tripartite opposition parties alliance ended without any consensus as the opposition parties has announced to go with it strike call on June 10 (Wednesday) across the Khyber Pakhtunkhwa province against the alleged rigging during the recently held local body elections in the province.
Acording to details, the Chief Minister Khyber Pakhtunkhwa Pervaiz Khattak has constituted a four member ministerial committee to hold talks with the tripartite opposition alliance over the decisions being made during the KP government called All Parties Conference held today. The four member ministerial committee is headed by KP local body minister Inayatullah Khan and comprise of Health Minister Shahram Khan Tarakai, Education minister Atif Khan and
The opposition parties including Pakistan Peoples Party, Awami National Party (ANP) and Jamiat Ulama-e-Islam-Fazl (JUI-F) has also constituted a three member committee comprise of Mian Iftikhar, Haji Ghulam Ali and Najmuddin.
The two committees held talks at Bacha Khan Markaz over the rigging allegations during the local body elections and ways to resolve the issue. However the opposition parties refused to call back its strike schedule from June 10.
The tripartite opposition alliance has reiterated to hold peaceful protest strike against the election rigging. They demanded of the provincial government to step down and hold fresh election under the caretaker government.
The tripartite opposition alliance comprising PPP, Jamiat Ulema-i-Islam-Fazl (JUI-F) and Awami National Party (ANP) rejected the proposals made during the All Parties Conference (APC) convened by Khyber Pakhtunkhwa Chief Minister Pervez Khattak.
Opposition parties in the KP Assembly had boycotted the APC while the Jamaat-i-Islami (JI), Awami Jamhoori Ittehad Pakistan (AJIP) and Qaumi Wattan Party (QWP) participated in the APC.
Earlier during the day, the KP chief minister had said that the formation of judicial commission to probe rigging allegations during the recently-conducted Local Government (LG) polls in the province was agreed upon in the APC.
The tripartite opposition alliance rejected the chief minister's proposal of formation of a judicial commission.
"It has been proved that the LG polls were rigged, hence there is no need to form a judicial commission for investigation. The government should step down and announce elections under a caretaker set up," said ANP leader Mian Iftikhar Hussain.
In a press conference held after the APC, Khattak said that, "KP government will write a letter to Peshawar High Court for forming a judicial commission. It was also agreed that a four member committee will be formed under the chairmanship of chief secretary for investigating law and order situation during the LG polls,"