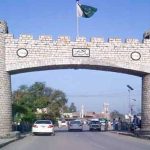 PESHAWAR: The Khyber Pakhtunkhwa Finance Minister Taimur Saleem Jhagra on Friday presented the provincial budget, for the next financial year 2020-21 at KP Assembly.
The total outlay of the budget stands at Rs 923billion including Rs739.1 billon for settled districts and Rs183.9billion for merged districts, with maximum allocation of Rs124billion for health, Rs317.8bln for development expenditure including Rs221.9 billion for settled districts and Rs95.9 billion for merged tribal districts.
The finance minister commenced his address by highlighting the ongoing coronavirus pandemic, and its affects both nationally and globally. "The entire world struggles with Coronavirus pandemic, which is worse than anything seen in the last 102 years. At least nine million people are known to be infected. Close to 0.5mn lives have been lost. Healthcare systems of richest countries in the world have also failed to cope," he said.
The minister said that Khyber Pakhtunkhwa has also seen thousands of infected cases and over 750 deaths. "The economic impact of the coronavirus is also relentless. We face the worst global economic recession since 1929," he said.
We're now living in a world of lockdowns and partial lockdown said Jhagra, which has reduced trade and travel, created unemployment in the private sector, and has put pressure on the government revenues, and has also lead to an increase in expenses on emergency response.
The minister informed that a total of Rs605.2 billion were allocated for settled ie Rs517.2 billion and merged districts ie Rs88 billion.
Regarding development expenditure, he said a total of Rs317.8 billion were earmarked including Rs221.9 billion for settled districts and Rs95.9 billion for merged districts.
There are two drivers of KP Budget 2020-21, informed Jhagra. First, COVID-19 crisis, budgetary implications of which are clear from a health and an emergency response perspective
"It's budget day, at a difficult time, in the age of Coronavirus," said Jhagra in a tweet prior to budget session. "A budget in a year of challenges, where our resilience as a people will see us through," he added.
Record Health Budget
We will make the biggest investment in healthcare in the history of this province, said Taimur. as the province announced a record budget for the healthcare sector of over Rs124 billion across settled and merged districts.
The minister said that within a month, the government will sign a contract for our Universal Health Insurance programme, meaning every family in KP will have access to over Rs1 million insurance Sehat Insaf Card programme.
The health budget will be supplemented by Rs24 billion contingency fund for expenses related to Covid-19, including Shuhuda package for frontline workers, core costs such as PPE procurement & testing, relief operations, spending on poor through Ehsaas program. Out of the total amount, Rs15 billion would go for settled districts and Rs9 billion for merged areas.
"We will redouble our efforts to combat not just Coronavirus but also polio, dengue, as well as routine immunization efforts. To do all this, we will make major investments in strengthening the department and its organisation," said the minister.
The provincial government has also allocated Rs36 billion for operations and enhancement of flagship tertiary hospitals, including Rs26 billion as core budget of MTIs, Rs4 billion for completion of major projects, Rs6 billion as a top up challenge fund for MTIs to claim.
The minister said that deficiencies in hospital waste management will be removed in this year through Rs1 billion development scheme that will engage the private sector, said minister.
For development budget in health sector, Jhagra said Rs24.4 billion were allocated including Rs13.8 billion for settled district and Rs10.6 for merged tribal districts.
Similarly, budget has been increased from Rs2.5 billion to Rs4 billion for procurement of medicines in healthcare facilities.
The KPK Revenue Authority witnessed a growth of around 81 percent year-on-year, and even after COVID will end year at a record over Rs17 billion collection, informed the minister.
We were witnessing record-breaking growth of overall provincial revenue receipts of 38pc against last year before COVID-19, said Jhagra. With impact of COVID-19, growth has reduced, he said, but we still expect overall revenue collection to finish at over Rs36 billion.
The provincial government has budgeted Rs105.9 billion for settled districts as compared to Rs87 billion last year. The development budget for sector stands at record Rs24.4 billion (including Rs 13.8 billion for settled districts and Rs. 10.6 billion for merged districts).
Jhagra said that the key principle in KP Budget 2020-21 is a tax-free budget, with no new taxes, and no increase in major tax rates.
Excise department is withdrawing provincial taxes completely in a number of areas where double taxation was occurring, said the minister. There will be zero bed tax for hotels, zero professional tax for 18 categories of professionals, provided they register with KPRA.
The minister added that there will also be zero professional tax on all medical professionals and services. The entertainment tax is being permanently abolished, informed Taimur.
To encourage increased car registrations, re-registration will be free of cost with no NOC required from the originating province, said Taimur.
The provincial government has reduced Sales Tax on services in 27 categories. More so, for restaurants where payment of 8pc has to be made, if they use the point of sales software, the sales tax rate will go down from 8pc to 5pc, informed Taimur.
The minister informed that in order to reduce expenses of government, no allocation for training and entertainment been made. Whereas, salaries and pensions of government employees will not be increased.
The minister said that non-tax relief measures include the elimination of admission fees for both government primary and secondary education schools for girls and boys, and to professional government art colleges.
The minister informed that the Khyber Pakhtunkhwa Government has merged 26,000 khasadar and levies personnel from merged districts with KP Police, and has regularised over 10,000 SPOs.
21 stations of Rescue 1122 will be established in tribal districts, informed Taimur.
Jhagra informed that 57 MW electricity added in generation and transmission through three new Hydel Power Projects. The provincial government has introduced Wheeling Model to provide electricity to industries at 4 rs/unit instead of 18 rs/unit.
The federal government presented 'Corona' budget for the next fiscal year on Friday with a total outlay for the next fiscal year has been projected at Rs 7132 billion and total revenue at Rs 6573 billion with the federal board of revenue share of Rs 4963 billion as opposed to Rs 3900 billion for the current fiscal year.
The GDP growth for the next fiscal year has been targeted at 2.1 percent with 6.5 percent inflation and a current account deficit of 4.4 percent as well as to increase foreign direct investment (FDI) 25 percent.