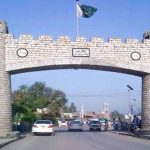 PESHAWAR: The Khyber Pakhtunkhwa Minister for Health Hisham Inamullah Khan has said that the government is ready to hold talks with doctors to redress their grievances.
Addressing a news conference in Peshawar on Friday, he said the government hospitals are not being privatized and doctors will remain civil servants till their retirement.
To another question, Hisham Inamullah said dengue is under control in Khyber Pakhtunkhwa and no death has so far been reported due to dengue in the province.