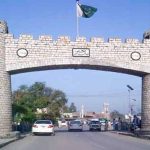 PESHAWAR: Khyber Pakhtunkhwa government has released 18.4 billion rupees for rehabilitation and reconstruction of more than 57,000 damaged houses in the newly merged five tribal districts.

According to a compensation chart posted by Special Assistant to the Prime Minister on Media Iftikhar Durrani on his twitter account, around 15.389 billion rupees have been paid for 38,473 fully damaged and over three billion rupees for 19,097 partially damaged houses in these districts.
The special assistant termed this step another example of the provincial government's concern for well-being of the tribal people.
It is worth mentioning that on July 2, the tribal districts will undergo its first ever elections for the provincial assembly after its merger with KP province.
The Election Commission of Pakistan will start the scrutiny of the nomination papers by May 18, as the deadline for submission of papers by the candidate was May 11.
As per the election schedule, the appeals against decisions of the returning officers regarding acceptance or rejection of the nomination papers can be filed by May 22.
On May 30, ECP will allot the election symbol to the contesting candidates.