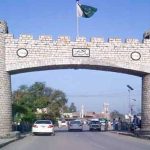 PESHAWAR: Khyber Pakhtunkhwa government released Rs20 million for efforts to control dengue epidemic in Peshawar.
The amount released by the provincial government would be used on measures and effort to control the dengue disease which has become endemic in the provincial metropolis.
The mosquito-borne disease has gone berserk in the provincial metropolis and so far over 1500 patients have been brought to hospitals.
During last 24 hours, 104 new cases were brought to different health facilities in the city. Out of them, 79 patients were tested positive for dengue fever.
So far the diseases has claimed seven lives in the city.
Deputy Commissioner Peshawar has said that 85 teams are being formed by the district administration of two of the most dengue-effected areas of the city to distribute medicines during the house-to-house anti-Dengue drive to help control the epidemic which has gone out of control.
It may be mentioned that district administration of the city as well as the doctors team sent by Punjab province are separately busy trying to bring Dengue which has gone berserk under control here. According to sources the rush of people seeking treatment over real or suspected dengue epidemic has subsided at the camps set up by Punjab doctors.
The Deputy Commissioner further informed that each team which would include three female and one male staffers will distribute medicines as well as lotion and water-purifying tablets to the people during the house-to-house campaign.
According to the spokesman of the district government houses are being marked with numbers on the pattern used for anti-polio vaccination drive conduct the campaign in a systematic way.
According to the spokesman the actual number of dengue patients is seven while 240 dengue patients have been cured off the disease.