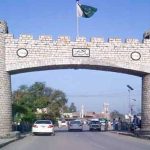 PESHAWAR: The Khyber Pakhtunkhwa government has released five point five billion rupees for development of tribal districts.
According to an official statement, this amount will be spent on reconstruction of two hundred and forty schools and about seventy hospitals.
Similarly, three hundred and over fifty water supply schemes will also be completed to provide clean drinking water to the people of all seven tribal districts.