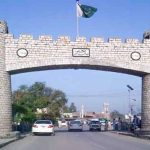 PESHAWAR: The Khyber Pakhtunkhwa government has urged PDM to postpone their rally in Peshawar keeping in view of the threat of terrorism in the city, Khyber News reported. KP Minister for Labour Shaukat Yousafzai said in a statement after a meeting with Chief Minister Mahmood Khan in Peshawar on Friday that the opposition parties should hold talks with the KP government on the issues instead of putting security of the city at risk. However, he made it clear that talks will be held on all issues except accountability matters. The minister said Peshawar has recently witnessed a tragic terror incident in which innocent children of a madrassa were targeted. Shaukat Yousafzai said the KP government will not impose any ban on rallies and processions but would give full security to it.
The 11-party opposition alliance has started rallies against the incumbent government of Pakistan Tehreek-e-Insaf (PTI). The opposition claims the movement has been launched as the government has failed to deliver. The opposition has rejected the KP government's request for postponing the rally and said it will go ahead as planned.
The Jamiat Ulema-e-Islam-Fazl (JUI-F) Secretary General Maulana Abdul Ghafoor Haideri said the public meetings of opposition alliance, Pakistan Democratic Movement (PDM) will continue despite the tragic terror incident in a madrassa in Peshawar. Talking to media persons after visiting the madrassa in Peshawar where a blast happened four days ago, Abdul Ghafoor Haideri said the government writ is invisible. He demanded formation of a high-level judicial commission to probe the incident. The JUI-F leader said the public meetings of the PDM in Peshawar and Multan will go ahead according to schedule.