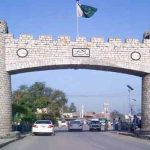 Khyber Pakhtunkhwa Finance and Health Minister Taimur Saleem Jhagra said the Bus Rapid Transit Peshawar will be opened for public "in weeks" ahead, either in August or September.
The provincial minister said this while speaking to media on Thursday.
Reacting to a statement by information minister Shibli Faraz regarding the bus project, Jhagra said the federal minister was right when he said that the project has suffered from some problems, and that the same had been stressed by Chief Minister Mahmood Khan.
In a television programme, the federal information minister had admitted that there are mistakes on the part of the government in the project which could have been carried out in a better way.
The finance minister said there is no government in the world that does not make errors, adding that it is wrong when people try to politically defend everything. "The project came under pressure when the six-month deadline was given," admitted Jhagra.
The BRT Peshawar project will cost Rs70 billion, including the exchange rates, the minister said, adding that the repayment of the debt depends upon the future value of the money but the terms and conditions of the loan are not an issue.