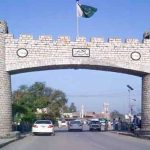 LAHORE: The government of Khyber Pakhtunkhwa (KP) has written a letter to Punjab seeking assistance in establishing violence against women centre.
Punjab government tweeted the letter sent by KP government and stated that it was pleased to see the letter.
The tweet added that they have already shared the plans and that Chief Minister Shehbaz Sharif has directed to assist KP in the implementation of the said centre.
The letter sent by WE section officer of KP to senior programme officer of Punjab sought a copy of PC-1 of Violence Against Women Centre, Multan from Punjab government as KP government is planning to establish a centre on the same pattern.