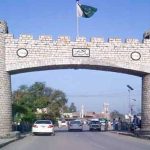 PESHAWAR: The Khyber Pakhtunkhwa government has forwarded three names to the federal government for appointment on the post of Inspector General of Police (IGP), a source said.
Sources said that the shortlisted candidates include Inspector General Motorway Police Shaukat Hayat, Additional Inspector General CTD and Special Branch Dr. Salahuddin, and Akhtar Ali Shah whose names have been forwarded to the federal government. The federal government will take a final decision in this regard.
The delay in notification of two officers following their promotion has forced the government to consider more than two names for the job, a source said. A number of officers were promoted late last year but the notification in this regard is yet to be issued.
"The government wants a competent officer to become the KP IGP to continue with the reforms agenda initiated by Nasir Durrani," said the source.
The source said that currently one officer each from KP and Punjab are on the top of the list of those being considered for the IGP's job. "Imran Khan and Chief Minister Parvez Khattak both want a competent officer should replace Nasir Durrani no matter if he is senior or otherwise. Things will be decided soon," said the source.