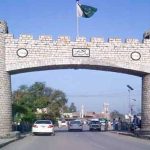 PESHAWAR: Khyber Pakhtunkhwa Chief Minister Mahmood Khan on Tuesday said that the provincial government is following the directives of Prime Minister Imran Khan for taking special measures for the welfare of needy people.
CM Mahmood Khan, while addressing an event, said that PM Khan has directed him to put the welfare of needy people on the top priority of the government. He added that the initiation of agriculture programme in Bajaur is praiseworthy.
"Prime Minister has told me not to disappoint him and I knew him [Imran Khan] too as he will also meet the expectations of the nation. Many lobbies are activated against us, however, I have firm belief on Allah Almighty."
Highlighting the future strategies of the KP government, the chief minister said that he has to pay visits to tribal areas in order to resolve problems. He noted that it was a bigger challenge to the government to merge erstwhile Federal Administered Tribal Areas (FATA) into the Khyber Pakhtunkhwa (KP).
Mahmood Khan said that he is grateful to Allah for the successful completion of KP-FATA merger. He was of the view that Bajaur will be turned into a developed zone just like the other parts of the province.