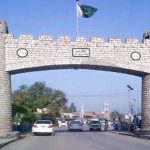 PESHAWAR: Adviser to Chief Minister Khyber Pakhtunkhwa on Information Ajmal Wazir has said that the government has decided to allow push-cart holders and tandoors to remain open after 4pm.
Addressing a media briefing in Peshawar on Monday, he once again urged the people to ensure social distancing to reduce the spread of this pandemic.
He said the government is utilizing all its resources to compensate the masses amid coronavirus pandemic spread.
Earlier, MNA Munir Orakzai and Special Assistant to KPK CM Kamran Bangash tested positive for coronavirus.
After being tested positive for coronavirus, Kamran Bangash self-isolated. He had visited the hospital after his condition deteriorated.
The Health Department staff has taken samples of 11 of his family members for tests. Adviser to KPK CM Ziaullah Bangash said that he and Kamran Bangash had jointly returned from Kohat. "I will also undergo the coronavirus test," he said.
Meanwhile, Prof Dr Javed who fell victim to the epidemic while fighting against coronavirus died on Saturday.
He was being treated at Hayatabad Medical Complex. He had been on the ventilator for the last several days. He was serving in the ENT Ward of the hospital.
On the other hand, two lady doctors of Lady Reading Hospital also tested positive for coronavirus.