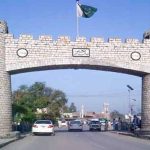 PESHAWAR: The Khyber-Pakhtunkhwa government has decided to challenge the acquittal of the 26 suspects in Mashal Khan lynching case in the high court.
According to KP minister Shaukat Yousafzai, the verdict seems to have been announced in haste.
Meanwhile, the anti-terrorism court (ATC) hearing the Mashal Khan murder case has announced the verdict. Imran Ali, who shot at Mashal, was sentenced to death and a fine imposed on him. Five others have been given 25 years imprisonment each. One of these five convicts is a university employee. Twenty-five others are to be jailed for four years each.
Meanwhile, 26 suspects have been set free over lack of evidence against them.
Three suspects – Pakistan Tehreek-e-Insaf's (PTI) Tehseel Councilor Arif, Sabir Mayar, the president of Pakhtoon Students Federation, and Assad Zia, an employee of the university – still remain at large.
Mashal Khan was a 23-year-old journalism student at Abdul Wali Khan University in Mardan. He was killed on April 13, 2017, when a violent mob attacked him on the pretext of committing blasphemy. No proof of blasphemy was found against him. Investigators have ruled that the murder was politically motivated.
Mashal's brother, Aimal Khan, said that he is not aware of the KP government's decision to challenge the acquittals. "However, if that's their decision, it's a welcome one," he said.
ANP leader Zahid Khan also questioned the verdict, asking why the police, who failed to contain the situation despite being present at the campus, have not been punished. Punjab Law Minister Rana Sanaullah also said that the verdict was disappointing.
ATC judge Fazal-e-Subhan announced the verdict on Wednesday. He is reading the verdict out for each of the 57 suspects presented before him. On January 30, the decision pertaining to the Mashal Khan murder case had been reserved by the ATC. Statements from 51 witnesses, including Mashal's father, have been recorded.
The fate of as many as 57 arrested suspects is being decided today. Charges have yet to be framed against one suspect, identified as Izhar alias Johnny, who was arrested a couple of months ago. Meanwhile, three others are absconding. The arrested suspects have been shifted from the barracks to the special court set up inside the jail premises. The proceedings were taking place inside a closed chamber and media has not been allowed entry.
Speaking to the media, Mashal's brother said that the family wants all the suspects to be punished as all of them were involved in the killing. He added he will further comment after consultation with their legal team. According to him, they have four lawyers.
Aimal further said that the education of his sisters has suffered due to Mashal's killing in the wake of security concerns.
High-level security arrangements have been made at the court. As many as 250 police personnel have been deployed around the prison while routes leading to the court have been sealed off. Entry of visitors has also been banned.
Meanwhile, security personnel have also been deployed at Mashal's residence and grave in Swabi, as well as Abdul Wali Khan University Mardan, where he was murdered. While his father is in London, the lynched student's mother and sisters are staying at their residence in Swabi. Mashal's brother, Aimal Khan, told Samaa that he is positive about getting justice today. According to his mother, she is expecting the strictest form of punishment for the culprits so that no other child suffers what Mashal did.
Aimal demanded that the Pakistan Tehreek-e-Insaf (PTI) government fulfil the promises it made to the family after Mashal's lynching. He reminded them of how they had promised to rename Swabi University in Mashal's honor but have yet to do that.
Meanwhile, Mashal's father Iqbal had also said on January 22 this year that he himself was bearing the expenses of the police security for his family, adding that the PTI government in Khyber-Pakhtunkhwa has not fulfilled a single promise made to him after the lynching of his son.