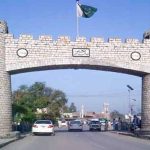 PESHAWAR: Khyber Pakhtunkhwa Health Minister Dr. Hisham Inamullah Khan says the government has decided to digitalized the hospitals system across the province.
Chairing a meeting in Peshawar, he said a full-fledged IT Department will soon be established to close liaisons with all the hospitals.
He said the medicines availability in hospitals and basic health units will also be computerized to provide latest health facilities to ailing humanities.