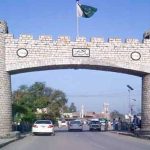 PESHAWAR: In an attempt to keep people updated about gridlocks and alternative routes, the Khyber Pakhtonkhwa police have decided to launch FM radio in Peshawar.
The FM service will be launched at the Peshawar Traffic Headquarters. According to officials, the FM radio service will keep informing motorists about snarl-ups in the city and alternative routes to prevent people from facing any hassle.
In November 2017, a similar idea was tabled during a meeting of administration at Civil Secretariat which decided to kick off a multi-pronged campaign to inform people about alternative routes.
Secretary Information Qaiser Alam had issued directives to start broadcasting public service messages on regular intervals using the government-run FM Radio Pakhtunkhwa channel providing details regarding traffic congestions and alternative routes at various spots in the city so that people may be directed accordingly.
Alam also directed to start issuing display ads in print media highlighting alternate routes to be used in the city in case of traffic congestions arising out of the construction work.
Secretary transport issued directives to display area specific alternative routes on signboards and billboards throughout the city, in addition to identifying rush hours and devising effective methodology to divert traffic on alternative routes.