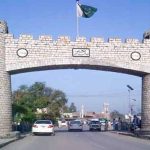 PESHAWAR: The government of Khyber Pakhtunkhwa will observe black day on October 27 (Friday) against India' illegal occupation in Kashmir.
Different programmes would be arranged in all districts of the province to express solidarity with Kashmiri people of Indian held Kashmir.
Debate competitions at school and college levels would also be held and to be broadcast in social media so that the international
community could get aware about Indian forces atrocities in the area.
District Administration Abbottabad, Traders' union and civil society would carry out rallies on October 27 at 1500 from Jalaabad Auditorium to Fawar Chowk.
On the special directives of Commissioner Hazara, programs have been planned for all districts of Hazara division to observe the
black day on Friday.