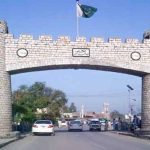 PESHAWAR: The Khyber-Pakhtunkhwa (K-P) government will spend Rs87.7 million on the renovation of historic Mahabat Khan Mosque as the Provincial Development Working Party (PWDP) has finally given the nod to the Directorate of Archaeology to carry out this much-delayed project.
This 17th century mosque, named after the Mughal governor of Peshawar Nawab Mahabat Khan, has been neglected by the authorities since long.
The PDWP's working paper revealed that the historic mosque is in a dilapidated condition and needs immediate restoration. Any delay in the rehabilitation work may cause severe damage to this ancient structure.
The K-P government had earlier allocated Rs50 million in the budget 2014-15 for its rehabilitation.
However, in April 2016, the PDWP put on hold the restoration work as the Auqaf department (body dealing with religious affairs) lacked the required knowledge to preserve archaeological sites.
The Directorate of Archaeology asked the PDWP to restore the site as the mosque is a living monument and a unique specimen of Islamic architecture. Other departments will not be able to maintain its originality as its restoration, without the technical study by the committee comprising archaeologists, conservation architects and civil/electrical engineers, is neither advisable nor purposeful.