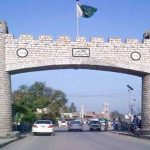 PESHAWAR: The Khyber Pakhtunkhwa government has decided to take strict action against the protesting class-IV employees of the all government hospitals across the province.
KP government in a statement said that the class-IV employees did not included in the 'Health Allowance' category. The statement said that two years ago all the government employees from grade-1 to grade-16 were promoted twice. The class-IV employees who were found absent from duties would face termination and their salaries would also be withheld.
The provincial government claimed that during the past two years Rs 3.00 million were spent on the welfare of class-IV employees.
It is to be mentioned here, from the last four days the class-IV employees in all the government hospitals across the province has started strike against the implementation of health allowance. The protesting employees had locked OPDs and perform duties only in emergencies of the hospitals.
The protesters are claiming that previous year the Khyber Pakhtunkhwa government had promised to start health allowance for class-IV employees however, so far no steps were taken in this regard.