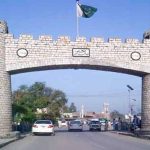 PESHAWAR: The PTI led coalition government is all set to present its fifth annual tax free budget carrying about Rs606 billion outlay with an increase of Rs47b in development program for the year 2017-18 with slight re-adjustment in provincial taxes in the provincial assembly today (Wednesday).
Provincial Minister for Finance, Muzzafar Said Advocate in capacity as Finance Minister will present the budget.
The budget documents obtained revealed that the ADP will be pitched at Rs208billion of which Rs126b would be provided by the KP Government and the remaining Rs82 billion would added by the foreign donors whereas of
the total Rs606b outlay, Rs396b would be allocated for current expenditure.
Likewise, the government would also take Rs52b loan from Asian Development Bank for execution of Peshawar Metro Bus project in the province. Rs30b from ADP is likely to be allocated for district governments and the salaries of the government employees is expected to raise from 10 to 15pc.
The budget proposals contain increase in ADP by Rs47b as the KP Government is expected to receive Rs81.99b from the foreign donors.
The ADP would consist of 1631 schemes comprising 1182 ongoing and 449 new schemes. Likewise, Rs20.32b allocated for 141 schemes for higher and secondary education department, Rs12b for 101 health projects, Rs5.16b for 84 schemes of public health engineering department, Rs7.5b for 209 schemes irrigation projects, Rs4.50b for 38 schemes of local government and Rs3.99b for 38 schemes in agriculture sector.
The Seht Insaf Card scheme would continue in next fiscal year as well and solarization of 4000 mosques in the province also included in the budget proposals.
The KP Govt would also provide Rs30,000 monthly stipends to poets, writers and artists of the province.
Health insurance schemes for government employees are likely to be announced in the budget. Likewise, 10 post graduate colleges would be established in next fiscal besides completion of Peshawar zoo and Arbab Niaz Cricket stadium.
The Chief Minister Pervez Khattak told a consultative meeting on budget and ADP here the other day that the budget 2017-18 would be tax free and poor people oriented, saying it would carry lot of relief for the have nots of the society.
The salaries of employees would register considerable increase besides launching a comprehensive program for capacity building of the government departments to deliver the most, the CM told the meeting.
Similarly the CM also took into confidence the ministers and MPAs on the measures regarding CPEC viz a viz development of the province.