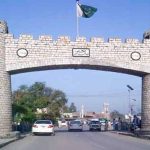 PESHAWAR: The Khyber Pakhtunkhwa government will renovate and upgrade Arbab Niaz Cricket Stadium Peshawar.
Seven hundred million rupees have been allocated for installing E-ticketing system, electronic score board, screens and CCTV cameras in the stadium.
A four star hostel for players, Helipad, Media enclosure and halls for fitness will also be built according to international standard.
Flood lights will also be installed in the Arbab Niaz Stadium for day and night matches.