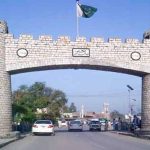 PESHAWAR: Khyber Pakhtunkhwa (KP) Provincial minister Shah Farman has said that Pakistan Tehreek-e-Insaf (PTI) led provincial government will accept and follow all the decision made during All Parties' Conference (APC), called on June 9 in order to discuss mismanagement during Local Bodies' election.
Addressing an emergency press conference in CM House, he said that the government is ready to hold investigation into allegations of vote rigging. He said that APC decisions would be accepted by the government.
He said that those demanding resignations from KP government should demand the federal government to tender resignations first over involvement in vote rigging.
Farman said that Returning Officers (ROs) were appointed by Election Commission of Pakistan (ECP) not by KP government. He alleged that ECP has not fulfilled its duties that result defamation of the provincial government.