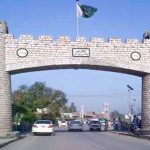 PESHAWAR: Khyber Pakhtunkhwa government's "model" home for street children 'Zamong Kor' director, retired Major Harris Khan Khattak has resigned from his post on Wednesday while levelling allegations of corruption against the home's board of directors (BoD).
Harris Khattak alleged that the chairman of Zamong Kor's BoD, Imtiaz Gillani, used school funds to buy a car worth Rs2 million, adding that other members of the board were also involved in embezzlement of the organisation's funds.
According to Khattak, he has informed the KP chief minister of the situation.
Imtiaz Gillani, on the other hand, dismissed the allegations and said that all of the organisation's decisions were taken according to a set procedure. "The car was bought through the board's approval," he said, adding that Khattak was "not taking enough interest in the organisation's affairs".
Pakistan Tehreek-i-Insaf had announced the launch of the first-ever institute for street children in the province in November 2015.
At the time of the launch, the KP government had said that the home would accommodate 1,000 street children and provide them with education, health, recreation, sports, boarding, food, career, psychological counseling and other necessary facilities.
An additional 100 kanals of land had to be acquired by the government to build a sports ground, an auditorium and a cricket academy for the Zamung Kor children.
By May 2016, even though the project wasn't functional, it was surrounded by controversy.
Questions were raised about how the funds were being allocated and spent; meanwhile, activists of children's rights had termed the initiative a 'vanity project' by the PTI.