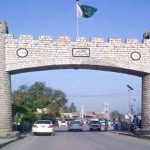 ISLAMAMAD: Pakistan Tehrik-e-Insaf (PTI) Chairman Imran Khan on Tuesday met with China's Ambassador to Pakistan Sun Weidong, where he assured the Chinese envoy that his party supports the government over the China-Pakistan Economic Corridor plan.
In the meeting held in the capital, bilateral issues were discussed and the PTI chairman also presented his party's stance over the CPEC.
During the meeting, Imran Khan said that the reservations of Khyber Pakhtunkhwa should be taken seriously over the project.
The PTI Chairman also appreciated the CPEC initiative calling it a gamechanger.
He also expressed good wishes for the successful completion of the project.
Over the matter of his party's protests, Imran Khan said that the PTI protests for ending corruption and promoting accountability.
On Monday, Chinese envoy Sun Weidong said if Iran was to join the CPEC project, it would be beneficial for both countries.
The CPEC is a mega project of USD 45+ billion, taking the bilateral relationship between Pakistan and China to new heights. The economic corridor is about 3000 Kilometres long consisting of highways, railways and pipelines that will connect China's Xinjiang province to rest of the world through Pakistan's Gwadar port.