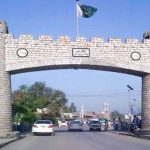 PESHAWAR: Khyber Pakhtunkhwa's police chief Nasir Khan Durrani on Thursday stepped down from the office of inspector general after serving the post for more than three years.
Durrani assumed the office of inspector general in 2013 on the condition that there would no political interference in his work.
The former police chief is most noted for taking strict action against officers accused of negligence in their duties, including Deputy Superintendents of Police (DSPs) and acting Superintendents of Police (SPs) were removed from service on account of misconduct.
Durrani also introduced a Police Access System to address public complaints within the shortest possible time. He also introduced the I-Call system, establishing a round-the-clock direct link between himself and the public.
Additional Inspector General Syed Akhtar Ali Shah is the acting IGP until an official announcement is made.