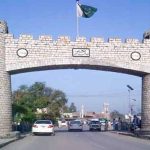 The vote count is under way after polling for the local bodies election in 17 Khyber Pakhtunkhwa (KP) districts ended. For the first time in the province, people have directly voted to elect tehsil chairmen/mayors and have been eagerly waiting for the results.
Unofficial and unverified results have begun to pour in and can give you an idea who is leading the polls on mayoral or tehsil chairmen seats. The vote counts for these mayoral/tehsil chairmanship seats have been completed so far.
In tehsil Lower Mohmand, PTI's Navid Ahmed leads with 7,931 votes.
JUI-F's Qari Sher Zaman is leading with 34,434 votes on the seat of the Kohat city mayor. Meanwhile, in the city's tehsil Lachi, independent candidate Muhammad Ahsan is leading the elections. In tehsil Garhi Kapura, ANP's Bakhtawar Khan has emerged victorious.
In what is being called a "major upset", ANP's Himayatullah Khan has won the Mardan mayor elections. JUI-F's Amanat Shah Haqqani follows second.
For the Swabi mayor elections, PTI's Attaullah leads with 29,363 votes.
In Mardan's Tehsil Takht Bai, JUI-F's Hafiz Muhammad Saeed leads with 37,364 votes. PPP's Mumtaz Mohmand falls second in place with 27,243 votes. JUI manages to sweep through the polls in the city's tehsil Rustam as well. Maulana Mubarak Ahmed leads with PTI's Muzaffar Shah in tow. The results in Mardan are bring called a big upset as ANP and JUI-F manage to win the chairmanship of the city. PTI has not won a single seat so far.
For the Peshawar city mayor election, JUI-F's Zubair Ali leads with 9,471 votes with PTI's Rizwan Bangash in trails with 6,163 votes. Peshawar's mayorship is the most coveted one and at least 17 candidates competed for this position.
In Peshawar's Chamkani Tehsil, PTI's Malik Ghulam Nabi leads with Arbab Omar Khan following closely. Omar is the son of former provincial minister Arbab Ayub.
In the Nowshera mayor election, PTI's Ishaq Khattak leads with 4014 votes, and his cousin PPP's Ahad Khattak is left behind with 1600 votes, according to results from 23 polling stations. Ishaq is the son of Defence Minister Pervez Khattak.
In Nowshera's Jehangira Tehsil, ANP's Sikander Abbas Khattak leads the vote count closely followed by PTI's Kamran Razaq Khattak.
ANP celebrated another win in Nowshera's Pabbi tehsil after Ghayyur Ali Khan won with 27,530 votes defeating PTI's Ashfaq Ahmed.
For the Tank mayoral election, PTI's Ramzan Shori leads with 18276 votes and JUIF's Saddam Hussain follows with 14337 votes.
In Mardan mayor election ANP's Himayatullah leads with JUIF's Amanat Shah in trials.
In Mardan's Takht Bhai Tehsil, JUI-F's Hafiz Mohammad Saeed leads the vote count. He is followed by PMLN's Mumtaz Khan.
In the Hangu Tehsil chairman election, independent candidate Aamir Ghani won after securing 14500 votes. JUIF's Maulana Qasim bagged 5103 votes.
For Charsadda Tehsil chairman election, JUIF leads with ANP in trials.
Shabqadar Tehsil chairman elections see JUIF's candidate leading the vote count as ANP trails behind.
In Bajaur's Nawagai Tehsil, JI's Latif Jan leads with independent candidate Najibullah following closely.
In Swabi's Razar Tehsil ANP's Ghulam Haqqani won by securing 22,743 votes and PTI's Buland Iqbal Tarakai finished second after getting 13,023 votes, according to unofficial results at the end of the vote count. This is a big upset for the ruling party and the influential Tarakai family. Buland Iqbal is the uncle of KP Education Minister Shahram Tarakai.
For the Bannu mayor election, PTI's Iqbal Jadon leads with JUIF's Irfan Durani closely behind. This has become a closely contested election.
For Haripur Tehsil chairmanship, independent Samiullah Khan leads with PTI's Akhtar Nawaz in trail.
In Haripur's Khanpur Tehsil, Raja Haroon from PMLN leads the vote count with 15229 votes and PTI's Raja Shahab Sikander follows him with 11118 votes.
In Buner's Tehsil Gagra, PTI's Syed Salar Jahan Bacha won with 9738 votes. JI's Rasheed Khan secured 5103 votes.
In Buner's Chagharzai Tehsil PTI's Sharif Khan leads with 4706 votes while Iqbal Khan follows with 2320 votes.
In Lakki Marwat's Naurang Tehsil, JI's Azizullah leads the vote count with PTI's Malik Ehsan in trail.
In Lakki Marwat's Lakki Tehsil, independent candidate Zafarullah Khan leads as another independent Shafqatullah follows him closely.
---
The election for the one mayoral seat from Dera Ismail Khan was postponed on Saturday after an ANP candidate was shot dead by unidentified gunmen.
At least 37,000 candidates competed for thousands of seats in the first phase of the local bodies' election. About 700 of them vied for over 60 tehsil chairman/mayor slots.
The violence-hit polls left at least two people dead and several wounded.
In the first phase, the election was held in Peshawar, Nowshera, Charsadda, Khyber, Mohmand, Mardan, Swabi, Kohat, Karak, Hangu, Bannu, Lakki Marwat, DI Khan, Tank, Haripur, Buner, and Bajaur districts. The second phase will see polling in the remaining 18 districts on January 16.