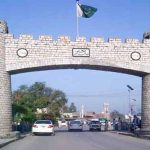 PESHAWAR: The Khyber Pakhtunkhwa Assembly parliamentary committee appointed to probe alleged corruption and irregularities in the Billion Tree Tsunami Programme, backed the corruption and irregularities allegations.
The 20-member committee comprised of MPAs from the government and the opposition including Leader of Opposition in KP Assembly, Akram Khan Durrani, paid a visit to the sites of the forestation in Bannu and other areas to investigate the corruption allegations.
Following the site visit, Akram Khan Durrani claimed that not even 100 million trees were planted under the programme, as opposed to the much-touted one billion figures.
He told the media that the figure was inflated by the authorities, and billions of rupees worth of corruption was committed in the project. He further said that the labourers were paid wages of Rs5,000 which were inflated to Rs15,500 in the government records.
The opposition leader also questioned why the accountability departments had chosen to stay silent on the allegations of corruption in the Billion Tree Tsunami project.
However, KP Minister for Information Shaukat Ali Yousafzai rejected the claims, who termed the allegations a "drama concocted by the opposition" to create controversy.
Yousafzai said that the committee members "purposefully" went to the wrong sites to assess the progress of the Billion Tree Tsunami programme.
"This is all a drama by the opposition. The government formed the parliamentary committee on the opposition's demands. God knows which sites they went to. I want to tell them, at least go to the sites where the trees are," the minister said.
Asked about the alleged irregularities in wages, Yousafzai clarified that those involved in corruption had already been fired by the provincial government.
"The mistakes that were done have been rectified. Those who were found responsible for the irregularities were fired. Over a hundred officers were removed from their posts. The recovery has been done."
Yousafzai said the opposition should have appreciated the provincial government's prompt action against the perpetrators, instead of digging up files from the past.