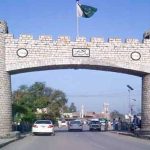 PESHAWAR: The Khyber Pakhtunkhwa Chief Minister Pervez Khattak has said that Pakistan Tehreek-e-Insaf (PTI) would emerge triumphant in the 2018 elections in the province again on basis of its performance.
In his exclusive interview in Khyber News programme 'Date Line With Syed Wiqas Shah' CM Khattak said that he has very much confident about winning the next elections too as it has a lot of achievements to its credit. "We strengthen institutions, introduced reforms in health and education sector, bring merit and transparency in appointments and government affairs," said Pervez Khattak.
Responding to a question that whether he sees any threat from ANP, CM said that how he will feel threat from a party which had destroyed every sector of the government. In ANP tenure, there was no merit, transparency, rule of law and quality were totally compromised for sack of corruption. The buildings, schools, roads and other infrastructure made in ANP period are in dilapidated conditions. "You will find no even a single road have in good condition.
Replying to a question, Chief Minister said that government had already purchased land for Swat Motorway for Rs 4 billion and Rs 11.5 billion has been released to Frontier Works Organisation (FWO). He said that construction work are underway on Swat Motorway, and will be completed by December 2017. He said that Rs 6 billion will be released next year and remaining amount will be come from toll taxes.
He said KP was the first province to construct a motorway from own resources. He, however, said that health, education, police are mega projects for them.