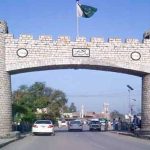 PESHAWAR: The Khyber Pakhtunkhwa Police on Wednesday claimed to have arrested terrorists in connection with the Peshawar Police Lines' masjid deadly bombing that left around 101, mostly policemen, dead and 180 others injured.
The police official said a probe is underway to unearth how the suicide bomber gained access to such a highly-secured police area.
The development comes as top police officials formed two joint investigation teams to probe the attack. Officials also admitted to security lapse which resulted in the ghastly attack.
Initial reports claimed that more than 10kgs of explosives were used in the attack that jolted the nearby buildings as well.