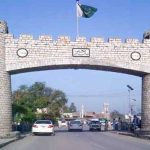 SWABI: The Khyber Pakhtunkhwa police on Saturday destroyed poppy crop spreading over 200-kanal land in Gadoon area of district Swabi.
The cultivation of poppy crop is prohibited in Pakistan as it helps produce opium. Morphine, a substance extracted from opium, is used to produce heroin, too.
However, the local farmers secretly cultivate it principally because of its financial worth.
November and December are the months when poppy is sown and it is harvested from April to mid of June.
Police carried out operation to destruct the crop that was being secretly raised in Gadoon, Swabi, on complaint by the local people.