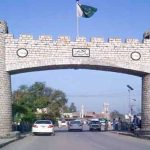 PESHAWAR: Youm-e-Shuhada-e-Police (Police Martyrs Day) was observed here on Friday August 4 to pay tributes to those police officers and jawans who sacrificed their lives for protection of motherland.
The day dawned with special prayers in mosques for eternal peace of the martyrs. Quran Khwani was held in all major mosques of the province especially at Regional Police and District Police Headquarters for martyrs' souls.
A series of functions have begun in connection with the Khyber Pakhtunkhwa Police Martyrs Day on August 4 to pay tributes to the cops who sacrificed their lives in the line of duty in the recent past.
Capital City Police (CCPO) Peshawar paid a visit to Frontier Constabulary (FC) Commandant Safwat Ghayur's grave who was killed in a suicide attack on a roundabout near his office in 2010.
Guard of honor was also presented to the martyr while higher police officials also participated in the ceremony.
On the occasion, sacrifice of Safwat Ghayur was also lauded whereas the security personnel also appreciated the duties performed by him.
It is pertinent to mention here that more than 1300 officers have been martyred since 2007 in war against terrorism whereas KP government remembers these policemen on August 4 every year.