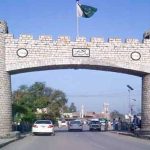 ISLAMABAD: The Khyber Pakhtunkhwa police on Tuesdya submitted a detailed report on Mashal Khan's murder at the Abdul Wali Khan University Mardan to the Supreme Court.
The report was submitted in the apex court by Mardan RPO Alam Khan Shinwari.
On April 16, Chief Justice of Pakistan Justice Saqib Nisar took suo moto notice of the murder of Mashal Khan by fellow students over allegations of blasphemy, and directed Inspector General Police KP Salahuddin Khan Mehsud to present a report on the incident within the next 36 hours.
Mehsud in a press conference on Monday reaffirmed that no concrete evidence of blasphemy was found against the slain Abdul Wali Khan student Mashal Khan and his surviving colleagues Abdullah and Zubair.
The IG stated that a complete report on the investigation against the lynching would be submitted to the apex court on Tuesday.
"I will ensure that the investigation is impartial," he assured reporters. "Details of the incident will be submitted to the Supreme Court. It will contain all major and minute details of our investigation."
On April 13, Mashal Khan was lynched at his university campus premises by an angry mob that accused him of committing blasphemy while another student Abdullah was injured.
So far, 22 individuals have been arrested in the murder case, including six employees of the university. "The suspects were identified through closed-circuit television (CCTV) cameras," a police spokesperson disclosed earlier. "The suspects will be presented in an anti-terrorism court."
Mehsud also informed that police had sought the FIA's help in the probe. "We have sought the help of FIA because there are manufactured, edited pictures and videos on social media sites for which we need an expert opinion of the FIA."
A suspect in the lynching of Mashal Khan, identified as Wajahat, confessed in a statement recorded before the magistrate yesterday and placed blame on the administration of the university.
He claimed the administration had called the meeting to decide the case of Mashal Khan but the situation got out of hand when he testified against the three students and the security in-charge, named Bilal Baksh, came to the meeting and warned "that anyone taking the side of Mashal and his comrades would be dealt with iron hands."
Wajahat added that Bilal had said he would kill Mashal. Following Bilal's statement the sitting congress turned into a violent mob and rushed towards the hostel.