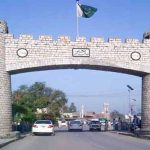 HANGU: Police in Khyber-Pakhtunkhwa province were the target of widespread criticism on social media after it arrested a former nazim in the Hangu district and tied him to a tree. The pictures of Haji Ziarat Gul, a local elder and former nazim, chained to a small tree inside the police station were widely circulated on social media.
Ziarat Gul owns a pharmacy in the main Hangu market. A drug addict, Tahir, wanted to buy sedatives that required prescription. Ziarat Gul refused to give him the sedatives but gave him other medicines when Tahir insisted and refused to leave the store.
"Tahir returned after an hour and started a scuffle with Ziarat Gul, accusing him of selling sub-standard medicines," said the police official. "Tahir was given a sound thrashing by Ziarat Gul and his sons, about which he filed a complaint with police at Rescue 15," the official added. Assistant Sub-Inspector (ASI) Naeem Hussain, who is in-charge of Rescue 15 Hangu, arrested Haji Ziarat Gul, the official continued. "He brought him to the Rescue 15 and chained him to a tree outside."
As news of the arrest spread, local traders gathered outside the Rescue 15 building. They warned the officer in-charge of a protest if Ziarat Gul was not released. "Ziarat Gul was allowed to leave shortly after and the case against him dismissed," the official concluded.
By this time, the pictures were already doing the rounds of WhatsApp groups and on social media, putting pressure on the provincial police to take action. Accoridng to another police official, Hangu District Police Officer (DPO) Ikram Ullah has already taken disciplinary action against the officer in-charge of Rescue 15.