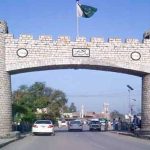 PESHAWAR: Private schools across Khyber Pakhtunkhwa will remain closed for two days in protest against the provincial Private Schools Regulatory Authority.
According to the KP Private Schools Association, all schools will remain closed on the 23rd and 24th of April due to a strike against the Khyber Pakhtunkhwa – Private Schools Regulatory Authority.
The authority had passed regulations which forbid private schools to collect fees of the months in which summer vacations fall.
The regulation stated that the parents have to pay half of one month's fee.
It also stated that transport fee will not be collected in the summer vacations.
The new rules prohibit students from hanging on the doors of their vans.
The regulatory authority warned that strict action will be taken against the principals or teachers found violating the regulations.
The private schools – on the other hand – stated that they have to pay salaries to their staff during the summer vacations and same is the case with the schools transport system.
The parents of the students are protesting against the closure of the schools.