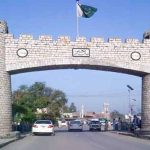 PESHAWAR: The Khyber Pakhtunkhwa Revenue Authority has claimed to collect tax of Rs 17.158 billion, despite the COVID-19 pandemic. The 66% hike is said to have come with a simple policy approach, 'tax acculturation', under which businesses and people were inclined to pay taxes.
According to the KPRA's annual report, high tax rates do not guarantee higher revenue collection, as the raise can be witnessed even through tax rates pitched on the lower side. The yearly report said the authority collected Rs10.354 billion in 2018-19, but the tax collection exceeded Rs17 billion during 2019-20, with Rs194 million being gathered on account of Infrastructure Development Cess.
At the time of the budget 2019-20, the KP sales tax target was initially fixed at Rs18 billion. It was later reviewed and pitched between two extremes —minimum Rs16 billion and maximum Rs20 billion.
For the KPRA, the major revenue contribution was recorded from the telecom services. Around 40% of the total tax collection was witnessed from the sector, marking a whopping increase of 169% that resulted from the fact that during 2018-19 no sales tax was paid by these services. The hiatus had come due to the suspension of taxes by the Supreme Court in a suo moto case.