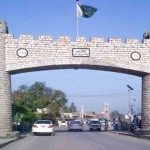 PESHAWAR: Provincial Election Commissioner (PEC) Khyber Pakhtunkhwa, Pir Maqbool Shah on Thursday administered oath to the newly posted District Returning Officers (DROs) for merged areas.
The oath taking ceremony was held here at a local hotel.The oath was taken under Election Act 2017.
Election Commission of Pakistan has also arranged training for the DROs and ROs as the election for newly created general seats for the merged areas for KP Assembly likely to be held for the first time.
It merits a mention here that election for KP assembly's general seats from merged areas are due this year. The tribal districts merged into KP in the wake of 25th amendment.