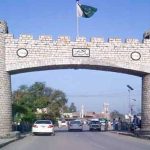 PESHAWAR: The death toll from COVID-19 in Khyber Pakhtunkhwa has mounted to 234 as 13 new deaths were reported.
According to KP Health Department, as many as 182 new cases were confirmed in the province during the last 24 hours, taking the tally to 4,509. The new cases include seven from quarantine centre in Torkham. Out of 13 new deaths, seven have been reported in Peshawar and one each in Charsadda, Mardan, Swat, Malakand, Abbottabad and Khyber tribal district.
A total of 1,086 patients have recovered in KP including 53 during the last 24 hours.
The death toll in Peshawar has mounted to 141, nearly two-thirds of total deaths in the province. The metropolis has also reported 1,810 confirmed cases. Swat has reported 22 deaths and 335 infections and Mardan has reported 12 deaths and 222 infections.
Two coronavirus patients have died in Khyber tribal district during the last 24 hours.
District Health Officer Tariq Hayat said one of the deceased belonged to Landikotal, while the other belonged to Bara tehsil. Both the bodies were laid to rest according to government standard operating procedures (SOPs).
Six people have died of the virus in Khyber district so far.
In Mardan, 64-year-old Haji Ali Akbar died from the virus on Saturday. He was under treatment at Al-Shifa Hospital in Islamabad. He belonged to Pirano Daag area of Takht Bhai tehsil.
In Lower Dir, a woman died of coronavirus on Saturday. She belonged to Nasafa Talash area and was under treatment in a hospital in Islamabad.
With latest death, the death toll in Lower Dir has now reached 10.
Death toll from COVID-19 in Pakistan has mounted to 641.
As many as 234 deaths have been reported in KP, 194 in Punjab, 181 in Sindh, 24 in Balochistan, four in Gilgit-Baltistan and four in Islamabad Capital Territory.
The total confirmed cases of COVID-19 in Pakistan have mounted to 29,367.
Of these, 10,771 have been reported in Sindh, 11,093 in Punjab, 4,509 in Khyber Pakhtunkhwa, 1,876 in Balochistan, 609 in Islamabad Capital Territory, 430 in Gilgit-Baltistan and 79 in Azad Jammu and Kashmir.
As many as 7,809 patients have recovered from the virus in Pakistan.