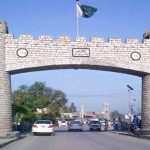 PESHAWAR: The Khyber Pakhtunkhwa province on Sunday reported it's 19th polio case for the ongoing year, taking the country-wide tally for the disease to 38.
A two-year-old girl was diagnosed with the polio virus in Jandola tehsil of district Tank in KP, reported the Polio Emergency Operation Centre.
According to the centre, the samples of the child were sent to the laboratory for diagnosis on February 21.
The case was further confirmed by the National Health Organization Islamabad.
The Polio Emergency Operation Centre further revealed that the girl had not been administered the polio vaccine during the routine drives.
Besides the 19 cases in KP, Pakistan has this year recorded one case of polio virus in Punjab, 13 in Sindh and five in Balochistan in just four months.
Polio is a highly infectious disease mainly affecting children under the age of five. It invades the nervous system and causes paralysis or even death.
While there is no cure for polio, vaccination is the most effective way to protect children from this crippling disease. Each time a child under the age of five is vaccinated, their protection against the virus is increased.