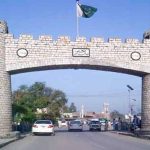 PESHAWAR: The Khyber Pakhtunkhwa government's spokesman Ajmal Wazir on Wednesday said that all retails shops and markets in Khyber Pakhtunkhwa will be allowed to remain open throughout the day until Eid-ul-Fitr.
"Bakeries and food delivery and takeaway services in the province will also been allowed to continue business after 5pm," he said in a media briefing.
The spokesperson assured that markets and shopkeepers have been instructed to ensure strict implementation of SOPs issued by the government. Those who fail to comply will have their businesses sealed.
"The district administration will be responsible for making sure that all the SOPs are followed properly," Wazir said, adding that the decision was taken to provide relief to the poor.
He added that in the upcoming days of Eid, the only appeal the government had for residents was "to take precautionary measures against the coronavirus".
"All we have to do is use masks, sanitise our hands and practice social distancing," Wazir appealed, promising further relief in the lockdown if SOPs are followed.
"Whether we tighten the lockdown or provide relief, every decision is taken considering the health of our people," he remarked. "Prime Minister Imran Khan has said that the country is fighting two wars presently. One is against the coronavirus and the other against poverty and hunger."
We don't know when the virus with end and we can only stay safe from it by taking safety measures, Wazir concluded.