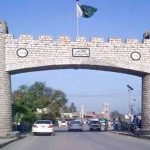 PESHAWAR: Khyber Pakhtunkhwa Minister for Elementary and Secondary Education Shahram Khan Tarakai said that provincial government would complete the appointment process of 27,000 teachers within few months. Talking to media persons, the minister said that the recruitment process is being carried out in a transparent manner to overcome the shortage of teachers in government schools. The minister said for over 500,000 students would be provided this year. Provision of furniture is important because there are still many schools, particularly in remote areas, where there is no furniture and students sit on mats or directly on ground to attend their classes. Even after increased budget for education sector, some schools in Peshawar's rural areas are without furniture which gives an idea about the poor state of affairs in less developed areas of the province.
Mr Tarakai said the shortage of teachers and furniture would be met accordingly while the students would get rid of heavy bags under the new law. Shahram said that apart from the measures, the government is taking steps to ensure quality education at all public sector schools for which 27,000 teaches are being appointed at tehsil level purely on merit basis.
He added that the Education Department was working to introduce Smart School System wherein Information Technology (IT) labs, courses and digital materials would available for students. The minister said that CCTV cameras are being installed at all public and private examination halls for transparent examination.