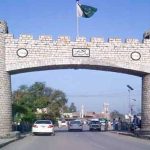 PESHAWAR: Advisor to Prime Minister Engineer Ameer Muqam Sunday said that the government of Khyber Pakhtunkhwa was bringing Teacher Reforms Act under a conspiracy to exploit the lives of 40,000 teachers
and their families.
He expressed these views while talking to various delegations of teachers including Grand Teacher Alliance, School Officers Alliance and others, which called on him here.
Ameer Muqam said that PML-N would not allow the PTI led provincial government's exploitation against teachers. He said that millions of family members would be affected after passing the draft act from the provincial assembly.
He said that teachers were builders of the nation and they should be given all the needed facilities to ensure the future of the country but unfortunately the teachers were depressed due to unavailability of perks and privileges.
He said that the PTI leader is running the affairs of Khyber Pakhtunkhwa from Bani Gala Islamabad and giving directives about the future of KP people which was not in their favour.
He said that the children of Imran Khan were sitting in London so how he can feel the pain of the children of others.
Muqam said that 117 primary schools in KP were closed while 223 were operating in tents and 10501 vacancies of principals and vice principals were laying vacant in KP which was a question mark on the performance of KP government.
He said that the Parliamentary leader of PMLN in KP Assembly Sardar Aurengzeb Nalota would point out the issue in the house to save the future of millions of children in Khyber Pakhtunkhwa.