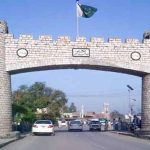 PESHAWAR: Pakistan Olympic Association awarded 4th Inter-Provincial Games to Khyber Pakhtunkhwa to be organized from March 25-29, 2018 in Peshawar, Vice President Pakistan Olympic Association Syed Aqil Shah said while addressing a press conference here Monday.
He said it is a great honor for the Khyber Pakhtunkhwa to host the fourth Inter-Provincial Youth Games wherein contingents from Punjab, Sindh, Balochistan, Islamabad, Gilgit-Baltistan, Azad Jammu and Kashmir and host KP would participate. It would be for the first time that players from FATA, GB, AJK and Islamabad would carry their own flag and would be full members of the Games. The Games would cost Rs. 4 million, he said. In 3rd Inter-Provincial Games in 2008 FATA had been given a token participation for 25-member players but they were not part of the overall result.
He said President POA Lt. Gen (Retd) Syed Arif Hassan has given approval for the participation of eight contingents after consultation with the members of the general council of POA. He said each of the 300 plus contingent means, more than 2000 male and female athletes would vie for the top honor in different Games. The decision of how many disciplines would be part of the Games would be decided later on, a jubilant Syed Aqil Shah added. He said President POA Lt. Gen (Retd) Arif Hassan will soon visit Peshawar and will present insignia of Olympic (Rings) badges to Chief Minister KP Pervez Khattak, Governor KP Iqbal Zafar Jhagra and Corps Commander Peshawar.
He said Chief Minister KP Pervez Khattak has been nominated as Patron-in-Chief of the Games while Chief Secretary KP will act as Chairman Organizing Committee of the Games. He said the decision in this connection was taken in meeting of the Pakistan Olympic Association held under the Chairmanship of Lt. Gen (Retd) Syed Arif Hassan, President POA with Presidents and General Secretaries of all the affiliated Units took part.
He also thanked the Olympic family for reposing confidence in him and the members of the KP Olympic Association. He said the house discussed various important matters pertaining to the functioning of Provincial Olympic Associations viz a viz parallel Provincial Sports Associations and relations with respective Provincial Governments. It was unanimously decided that to establish effective relationship with Government authorities for the protection of the Olympic Movement in Pakistan.
The house also discussed in detail arrangements so far made for the forthcoming 33rd National Games in Quetta. He said rules of the Games shall be notified by the POA Sports Commission with the approval of General Council or Executive Committee while the Olympic Day would be celebrated during the period from July 8, 2017 at Lahore, Karachi, Quetta, and Peshawar. The affiliated units have been asked to hold various games in connection with the Olympic Day celebration.
He said steps have been taken to hold Sports Administration Course under the supervision of Olympic Committee of Asia (OCA) in Kalam, Swat, Naran and Peshawar. One venue for the Course would be decided later on, Aqil Shah added.
He said KP Olympic Association organized the 3nd Inter-Provincial Youth Games in 2008 wherein a suicide bomb blast was occurred at the entry gate of the Qayyum Sports Complex, killing two people and seven other injured. Despite all such situation, KP Olympic Association with strong support of Corps Commander Peshawar organized the 31st National Games in 2010 which was declared as the best ever Games in the history Pakistan. All out efforts and resources would be utilized for the successful holding of the 4th Inter-Provincial Youth Games, Syed Aqil Shah said. He said a request would be made to Chief Minister KP to allocate a grand of Rs. 2 million for the holding month long camps of various games and sending of KP contingent for 33rd National Games to be organized in Quetta in October this year.