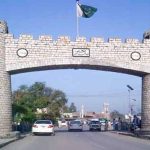 ISLAMABAD: Khyber News and Kay2 TV will be the official media partners for Kotli Lions and Overseas Warriors respectively  in the upcoming Kashmir Premier League (KPL) that will kick off today (August 6).
A grand opening ceremony of the event is to be followed by the first match of the season between Mirpur Royals and Rawalpindi Hawks in Muzaffarabad, the capital of Azad Kashmir.
The MoU signing ceremony was held in Islamabad between franchise owners and the AVT Channels Network. Six teams will fight for the trophy in the league. The teams, Rawalakot Hawks, Kotli Lions, Mirpur Royals, Muzaffarabad Tigers, Overseas Warriors, and Bagh Stallions, will play in a double round-robin format with each team facing the other twice.
All matches are scheduled to be held in Muzaffarabad with the tournament due to end on August 16. Whereas the final Match will play on 14th August 2021. Here is the scedule:-
6 August, Friday: Mirpur Royals vs Rawlakot Hawks
8:30 pm
7 August, Saturday: Bagh Stallions vs Kotli Lions
2:00pm
7 August, Saturday: Overseas Warriors vs Muzaffarabad Tigers
7.30 PM
8 August, Sunday: Mirpur Royals vs Bagh Stallions
2:00 pm
8 August, Sunday: Rawlakot Hawks vs Kotli Lions
7.30 PM
9 August, Monday: Overseas Warriors vs Mirpur Royals
2:00 pm
9 August, Monday: Rawlakot Hawks vs Muzaffarabad Tigers
7.30 PM
10 August, Tuesday: Muzaffarabad Tigers vs Kotli Lions
2:00 pm
10 August, Tuesday: Bagh Stallions vs Overseas Warriors
7.30 PM
11 August, Wednesday: Rawlakot Hawks vs Bagh Stallions
2:00 pm
11 August, Wednesday: Kotli Lions vs Mirpur Royals
7.30 PM
12 August, Thursday: Bagh Stallions vs Muzaffarabad Tigers
10:00am
12 August, Thursday: Rawlakot Hawks vs Overseas Warriors
3:30 pm
13 August, Friday: Overseas Warriors vs Kotli Lions
2:00pm
13 August, Friday: Muzaffarabad Tigers vs Mirpur Royals
7.30 PM
14 August, Saturday: Qualifier (Team 1 vs Team 2)
4 PM
15 August, Sunday: Eliminator 1 (Team 3 vs Team 4)
4 PM
16 August, Monday: Eliminator 2 (Loser of Qualifier vs winner of Eliminator 1)
4 PM
17 August, Tuesday: Final (Loser of Qualifier vs winner of Eliminator 1)