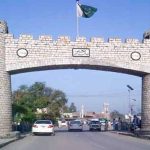 MUZAFFARABAD – The Kashmir Premier League's second season will begin today (Saturday) at Muzaffarabad, Azad Kashmir.
The Muzaffarabad Tigers, Hawks, Janbaz, Mirpur Royals, Stallions, Kotli Lions, and Overseas Warriors are among the seven teams participating in the championship.
In the inaugural game, which starts at 7 o'clock, Hawks will take on Janbaz.
The Kashmir Premier League is a major T20 cricket tournament designed to highlight Kashmir's significance and talent at worldwide level.
Sanctioned by the Pakistan Cricket Board and registered with Security & Exchange Commission of Pakistan, the league is designed to provide the young Cricket talent of AJK with a quality platform through which they can exhibit their skills while getting exposure from renown national and international cricketers.