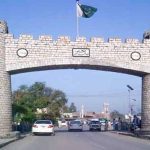 PESHAWAR: The provincial capital that suffered more than a decade of devastating extremist violence is set to release its first-ever international movie, Project Peshawar, the filmmakers said, a hopeful sign as security improves.
Peshawar, the capital of Khyber Pakhtunkhwa, was for years hit by militancy and unrest but will soon roll out the red carpet for Project Peshawar, which will be released in the US, UK, Canada and Holland.
"The film… revolves around a London-based character who falls in love with a girl from Peshawar through the internet and travels there only to discover that it was a mere trap to kidnap him," said the film's director Irshu Bangash.
Filming took place in Peshawar, as well as in the UK and Canada. The movie will be released in English, Dutch, Urdu and Pashto.
Peshawar, once the cradle of Pakhtun cinema, has long suffered in the country's war on militancy.
It was the site of Pakistan's deadliest ever attack, a Taliban assault on an army-run school in 2014 that left more than 150 people dead, most of them children.
That bloodshed scarred Pakistanis, already grimly accustomed to atrocities, spurring a crackdown that has seen militant violence drop significantly in the past two years.
As security improves cinema is seeing a renaissance.
Mr Bangash said the red carpet premiere will be held in Peshawar ahead of the film's release, which he said would be in the next two months.