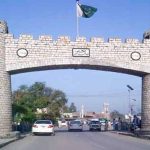 NEW DELHI: Pakistani High Commissioner to India Abdul Basit in an interview to Indian newspaper has said that Pakistan would not execute Indian spy Kulbhushan Jadhav until the International Court of Justice (ICJ) proceedings on the matter come to an end, even if it takes years.
In an interview with The Hindu, the Pakistani envoy said that Jadhav have right to make an appeal against his execution orders in Pakistan.
"In case the Court of Appeals rejects a plea of the convicted RAW agent against his death sentence, Jadhav would be able to appeal for clemency to Pakistan Army Chief and the President Mamnoon Hussain," the Indian newspaper reported Basit's statement.
The paper quoted Basit as saying, "Pakistan would like this matter to be settled quickly, but until (it does), we are committed."
Moreover, he told the newspaper that Pakistan government was trying its best to keep Lashkar-e-Taiba (LeT) chief Hafiz Saeed under house arrest while several other organisations which he represents are under observation for now.
In April, Indian spy agent Kulbhushan Yadav was awarded death sentence by the Field Court Martial General (FCGM) under the Pakistan Army Act (PAA) for espionage and sabotage activities against Pakistan.
Kulbushan Sudhir Jadhav alias Hussein Mubarak Patel was arrested on March 3, 2016, through a Counter-Intelligence Operation from Mashkel area of Balochistan for his involvement in espionage and sabotage activities in Pakistan.
The agent, arrested from Balochistan, in a video confession had admitted for being involved in anti-Pakistan activities.
But India has claimed that he is not a spy, alleging that he was kidnapped by Pakistan. It lodged a case against Islamabad, accusing the Pakistanis of violating the Vienna Convention by failing to provide him the consular access, as well as breaking the international human rights law.
New Delhi also filed appeal in the International Court of Justice to impose emergency measures to suspend Kulbhushan's execution until the legal battle in The Hague had concluded.
The UN´s top court on May 18, ordered Pakistan to stay the execution of Kulbhushan Yadav until the final judgement in the case.
The ICJ has set the next dates for India and Pakistan to present their written submissions, or 'memorials' on September 13 and December 13 respectively.