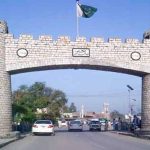 LONDON: Former prime minister Nawaz Sharif's son Hussain Nawaz confirmed on Wednesday that Begum Kulsoom will be buried in Jati Umrah on Friday.
Hussain said his mother's body will reach Pakistan on Friday when it will be laid to rest in Lahore's Jati Umrah area.
Furthermore, Hussain confirmed that both he and his brother Hassan will not travel to Pakistan for their mother's burial.
Nawaz and his daughter Maryam were released from Adiala Jail on parole hours after his ailing wife, Begum Kulsoom, passed away at a hospital in London. The father and daughter, along with latter's husband Captain (retd) Mohammad Safdar have been released on 12-hour parole to attend Begum Kulsoom's funeral.
The three were escorted by police from Adiala Jail to the Nur Khan Airbase from where they were brought to Lahore.
Nawaz, Maryam and Capt Safdar are currently at their Jati Umra residence.