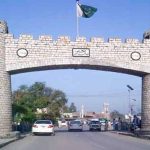 LONDON: The Funeral prayer of Begum Kulsoom Nawaz, wife of former prime minister Nawaz Sharif, will be offered today (Thursday) in London's Regent Park mosque.
PML-N president Shahbaz Sharif and other family members reached London on Wednesday night to attend the funeral and bring Kulsoom's body back to Pakistan.
A PIA flight carrying the casket will fly from Heathrow airport at 10pm today. It will land in Pakistan on Friday at 6am after which a second funeral prayer will be held at Jati Umra in the evening.
Kulsoom will be laid to rest the same day beside the grave of her father-in-law Mian Sharif at Jati Umra.
Begum Kulsoom Nawaz, the wife of former prime minister and Pakistan Muslim League-Nawaz (PML-N) supremo Nawaz Sharif, passed away at London's Harley Street Clinic on Tuesday after a prolonged battle with cancer.
Kulsoom was born in 1950 in Lahore to a Kashmiri family. She attended Islamia College and graduated from Forman Christian College in Lahore. She also received a Master's degree in Urdu from the University of the Punjab in 1970.
She married Nawaz Sharif in 1971, and served as the president of the PML-N from 1999 to 2002.
Kulsoom had remained the first lady of Pakistan for three non-consecutive terms from 1990-1993, 1997-1999 and 2013-2017.
After the disqualification of Sharif from Supreme Court last year, Kulsoom Nawaz was given party ticket to contest by-election from NA-120 while she was under treatment in London. Kulsoom was elected to Lahore's NA-120 constituency in a by-poll against Dr Yasmin Rashid of Pakistan Tehreek-e-Insaf (PTI) among other candidates. However; she was unable to return due to her illness.
Her election campaign was run by her daughter, Maryam Nawaz.