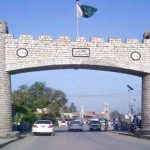 PESHAWAR: For the first time in the history, a lady police constable has joined the Khyber Pakhtunkhwa bomb disposal squad to fight the war against terrorists.
Rafia, a lady police constable of Peshawar has joined the bomb disposal unit and became the first lady in Pakistan and Asia to join the force.
29 years old Rafia had joined police department seven years ago.